Voluntary Benefits Insurance Billing
​​​
Improving oversight of benefits costs through better insurance billing and payroll-deduction statements
As more of your clients offer voluntary products in their overall benefits package, the need for more flexible insurance billing capabilities continues to grow. As a leading provider of employer-paid and voluntary products, Guardian is making it simpler for your clients to keep tabs on costs, reconcile their bills, and process employee payroll deductions.
Flexible billing options create a better customer experience
Guardian understands that different companies have different payroll cycles and seasonal needs. We help your clients manage their worksite insurance costs by providing a wide variety of insurance billing options.  
Monthly variable billing 
Employer-paid and employee-paid coverages are included on the same monthly billing statement. Monthly employee payroll deduction amounts vary based on the number of payroll cycles in the month.
Payroll frequency billing 
This flexible billing option is based on the client's payroll cycle. A client with a biweekly payroll cycle will receive 26 bills during the year, and a client with a weekly payroll cycle will receive 52 bills during the year.
Seasonal billing 
Billing and collecting premiums are scheduled based on your clients' unique needs. Payroll-deducted premiums for seasonal workers occur only during the periods for which they are receiving a paycheck and are suppressed during off-season. For example, schools often require a nine or 10-month billing cycle instead of the traditional 12-month billing cycle. 
Payroll slotting 
Each payroll system allows a client to define deductions, which provides the ability to aggregate multiple receivables into one or more slots. For example, employee and spouse amounts may be combined into one deduction amount or all Guardian benefits could be listed under a single Guardian payroll slot.
Flexible payroll deduction reports 
Payroll deduction reports are based on client payroll frequency. Deduction amounts are reported for each product chosen by employees. The files can be produced in full (for all employees) or with changes only (adds, terms, changes), and are available in two formats:
CSV version – provided via secured FTP
PDF version – downloaded online from GuardianAnytime.com 
Your clients get their choice of bill format and payment method
We want to ensure your clients get the documentation they need for benefits charged and billed. So we've created four flexible formats, each of which offers various levels of details, organization, and frequency. Your clients have the ability to switch formats at any time if they find a different "view" is more helpful for company reporting.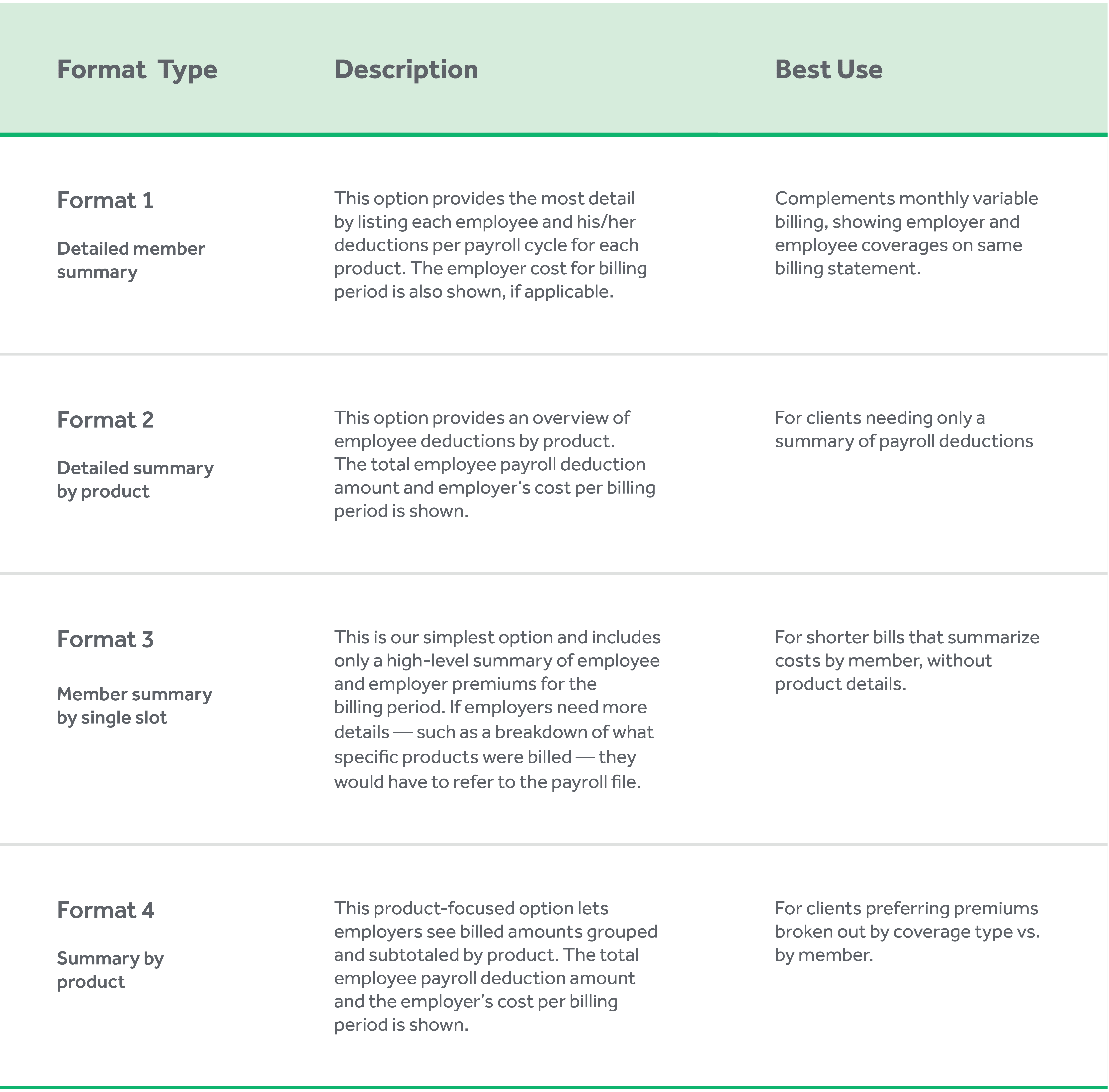 And Guardian makes it easy and convenient for your clients to pay their bill. We have several payment methods to choose from:
Check via U.S. Postal Service
Automatic clearing house (ACH)
Wire transfer
Ready to work with the fastest-growing company in voluntary benefits sales?1
Discover how our flexible insurance billing options can make it easier for your clients to administer Guardian Voluntary Benefits.    
Brokers Get Appointed
I'm new to Guardian and need to become appointed.
Get A Quote Now
I'm already working with Guardian and would like to get a quote.