Disability Insurance
Help protect a portion of your paycheck from unexpected illness and injury that keeps you from working.
Get a quote
What is disability insurance?
Disability insurance provides partial income so you can pay your bills if you get too sick or injured to work. Disability happens to more people, more often than you may think. In fact, more disabilities are caused by illness than injury, including common conditions like heart disease and arthritis, and most disabilities are not covered by Workman's Compensation.1
Some employers will offer short and long-term disability benefits to their employees. A short-term policy helps you immediately after an incident, and a long-term policy helps provide financial protection for disabilities that can last for years. You can also pay for additional coverage on top of the benefits you get at work to help provide extra financial protection.
What are the benefits of disability insurance?
People may incorrectly assume what qualifies as a "disability." For example, they may believe the term applies to catastrophic conditions, such as paralysis from a car accident or a debilitating stroke. However, disabilities typically are the result of less severe injuries and more common conditions such as pregnancy, back pain, depression, and digestive disorders.
An analysis of Guardian disability claims shows "mental health," which includes substance abuse, as one of the fastest-growing diagnosis categories in the past five years, along with digestive and circulatory.2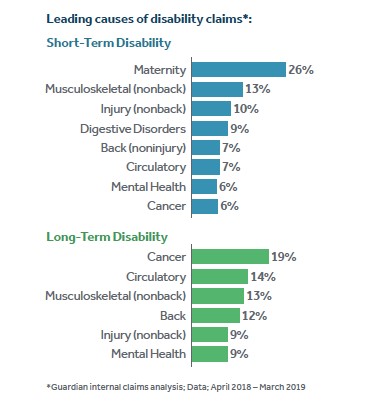 Being disabled doesn't mean one is unable.
Meet Dr. Feranmi Okanlami. After suffering an unexpected accident, his disability insurance helped him continue to pursue his dream, while also opening up new avenues for him to find success. Watch his story to find out more.