Shaping the future through innovation
Best & brightest working together
​​​

At Guardian, we help our colleagues unleash their creativity to spark innovation that solves our customers' most pressing needs. We believe that every idea matters and everyone has a voice in helping to shape our shared future. 

Today, we are moving faster than ever before to create and deliver new value through technology
Be a part of Guardian's agile transformation
We're embracing an agile culture and are one of the only Fortune 500 companies to commit to training our entire company. 
Digital marketing careers at Guardian
We're breaking ground in digital marketing. Hear about new digital initiatives and learn what it's like to work for a digital-first company.
Investing in our transformation
Hear our CIO Dean Del Vecchio give a keynote at the 2018 Amazon Web Services re:Invent Conference on how we are transforming the way we work to drive innovation
How we're building the future
Solutions like digital engagement, cloud computing, cyber security and big data are already helping to build a better experience for our customers and our company.
Digital engagement 
Through our digital efforts or consumerization, we're offering products and services that are adapted to the unique experiences of each customer. By understanding our customers, we can create better solutions for them, enable more self-service, create mobile first designs and leverage the "Internet of Things."
Big data 
To serve our customers, we need to know how they think, how they buy and what motivates them. To better manage our business, we make decisions that are data-driven. Through the use of predictive analytics, visualization, exploratory data and other tools, we are uncovering trends and unlocking opportunities to grow our business.
Cloud computing 
Our company manages and maintains many applications on secure, cloud-based solutions rather than in-house servers. This enables us to evolve at the speed of technology and more quickly develop new applications that provide enhanced services for our customers - making our products easier to use anytime, anywhere.
Cybersecurity 
As technology and the world continue to evolve and transform the way we do business, our ability to react and respond to the ever-changing cyber landscape should be agile to defend against the latest threats. Cybersecurity is one of our top priorities. It is essential that we remain active in the detection, protection and defense against cyber threats. We proactively develop, test and implement strong controls to help assess threats, control access and detect and respond to anomalies.
Automation 
We're exploring how automation can provide the tools and capabilities of the future and serve as your new co-worker for the digital age. We're testing how artificial intelligence, machine learning, biometrics and natural language processing can grow our business.
Innovation in action at Guardian
We host multiple programs and events throughout the year to encourage and promote innovation, including:
Annual Software Development Conference
Hackathons
Innovation Challenges
Annual Technology Expo
Agile Expos
Differences foster innovation
Guardian strives to build diverse teams across the company that bring different thoughts, backgrounds and experiences to the work we do. This is supported by our Diversity and Inclusion Council, a committee of employees that celebrates diversity and helps weave diverse viewpoints into the culture of our company. The Council promotes cultural awareness and fosters innovation by embracing individuals like you who can bring unique ideas to support our customers how, when and where they prefer.
Workplaces that inspire
We believe that to inspire great ideas and cutting-edge innovation requires a workspace that lifts your spirits and energizes your creativity. That's why over the past few years we've been modernizing our office locations. Here you'll find open and bright workspaces with audio-visual enabled huddle spaces and conference rooms that promote collaboration and innovation. Several of our office locations have already been reimagined, including Bethlehem, Pennsylvania, and Spokane, Washington. In early 2018, we opened a new office in Holmdel, New Jersey, which is our latest workplace designed to inspire you.
Guardian's corporate headquarters will move to 10 Hudson Yards (located at West 30 Street and Tenth Avenue) in New York City in 2019. Similar to our Bethlehem campus and upcoming Holmdel campus, our floors will be designed to allow for bright natural light throughout the building and will promote collaboration, mobility and innovation. The space will also conform to the latest environment sustainability standards. It's all part of our ongoing workplace strategy to meet the growing demands of our business and tomorrow's IT careers.
Great ideas & great work happen everywhere 
You never know where or when your next big idea will happen. Through our Guardian on the Go program, you and your manager decide whether you work at home, in the office or wherever is most convenient. We understand that your creativity knows no limits — and neither should your work location. Using the latest in technology and remote capabilities, you can collaborate with colleagues across the hall or a thousand miles away.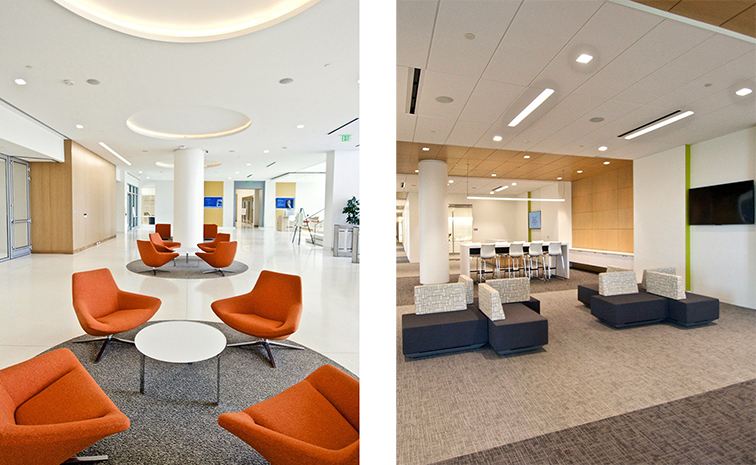 The Campus in Bethlehem, Pennsylvania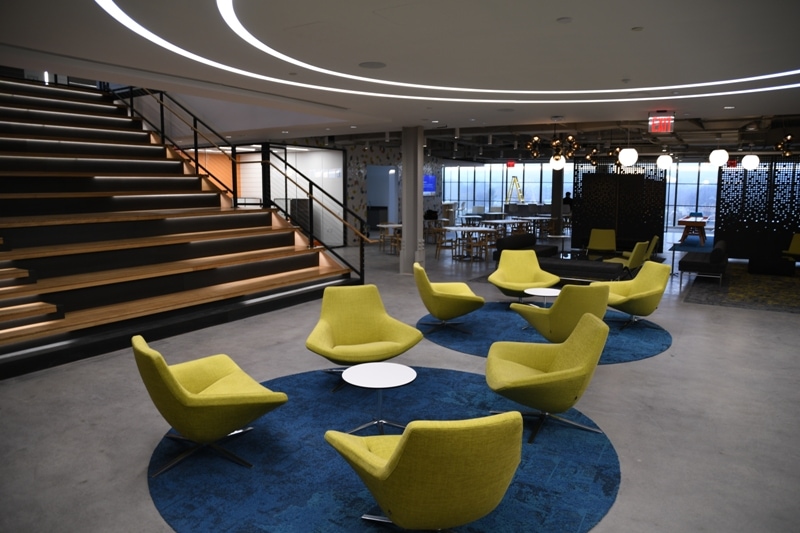 Holmdel Main Gathering Area 4th Floor
Be part of something more
We share your concern for the planet and the people who live here.
Our philanthropic efforts in local markets where we have a presence support financial education, workforce development, and health and wellness programs that provide communities in most need with essential services and opportunities to improve the quality of their lives. As part of our IT recruiting efforts, we welcome individuals who share our concerns and encourage them to volunteer their time, skills and ideas to help their communities.
Among our many sustainability efforts are energy-efficient lighting, recycling initiatives and cloud-based storage that significantly reduce energy consumption throughout our offices. We also built our new Bethlehem campus to the latest LEED certification standards. Find out more about our financial capability and workforce development efforts here.