Enhance your Group LTD Insurance offering
If you're looking for a seamless, cost-effective way to provide a more attractive benefits package for your employees, particularly your key people, our Supplemental Individual Disability Income Insurance offers a robust solution.
Designed to supplement our Group Long Term Disability (LTD) Insurance, this individually owned coverage allows your employees to obtain a higher level of income protection, with highly flexible terms. Even better, you can offer it as a voluntary benefit to keep your costs down, as an employer-paid benefit, or a combination of both.
Which companies need it?
Professional groups (legal, accounting, engineering)
Services firms (advertising, marketing, financial)
Technology (computer, high-tech, energy)
Biotech and pharmaceutical
Manufacturing
Why is disability income insurance so important?
Group LTD can leave your higher earners underinsured. That means these employees won't be fully protected from the effect that a disabling injury or illness could have on their income-earning ability. This gap in coverage is due to several factors:
Benefit caps. Group LTD typically limits benefits to 60% of an employee's income before taxes, up to $10,000 per month (or $120,000 per year).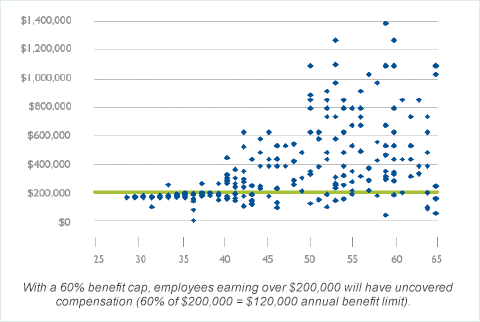 No coverage for certain income types. For example, Group LTD may not cover bonuses.
Taxes. LTD benefits may be taxable at the time of a claim, significantly reducing the actual benefits received.
A cost-effective way to provide maximum coverage
With Guardian Supplemental Individual Disability Income Insurance, you can offer continuity of income protection to your employees — without increasing your Group LTD cap. Your employees will receive a policy that covers more income and more types of income, increasing their satisfaction with benefits.
What's more, this benefit never decreases, it can't be offset by benefits received elsewhere, and the premium cost will never increase unless the employee buys more coverage. In short, your employees receive a highly affordable benefit that would be cost-prohibitive for them to get on their own.
Coverage for more types of income
Bonuses
Incentives
Commissions
Retirement contributions
A better experience for employers and employees 
Since Supplemental Individual Disability Income Insurance is an individual product offered in the group market, we've worked hard to ensure that it's easy for employees to enroll, and easy for you to manage. Let's look at some of the ways we've simplified the process.
Complete ePolicy Delivery
From enrollment to application to billing, you can deliver a seamless individual benefit to your employees online.
Customizable online enrollment. We can develop a strategy to align with your benefit culture, demographics, or recent organizational changes, not to mention your preferred methods for communicating benefits to employees. We place a strong emphasis on personalized education, using easy-to-understand language and online tools.
Easy application. With Guaranteed Standard Issue underwriting, coverage is issued with the completion of 3 simple yes/no questions and no medical exam. By comparison, full underwriting could take weeks.
Seamless billing. With automatic payroll deduction, our individual insurance looks and feels like a group benefit even though it's not.
The flexibility that employees want 
Our coverage gives your employees a highly desirable benefit that they can keep (and increase) even if they join another company. Because employees own this coverage, we provide them with maximum flexibility in choosing and managing it, including: 
Tiered plan options. Employees can choose from three distinct tiers with plan designs and optional riders to meet their income protection needs.
Buy ups. Your employees can purchase additional income protection coverage by moving up to a higher-tier plan during a subsequent enrollment.
Renewal options. Our coverage is non-cancellable and guaranteed renewable. An automatic annual renewal option ensures that an employee's benefit grows along with income.
Portable. Plus, there is an enhanced portability increase option on all policies.
Choose Guardian for both LTD and individual income insurance
Supplementing Guardian Group LTD coverage with Guardian Supplemental Individual Disability Income Insurance provides a number of significant advantages:
One-stop shopping for both LTD and individual income protection, with one bill*
Tailored coverage that takes a holistic view of your company and addresses group needs down to the individual employee level
Return to work support through our Group LTD claims, clinical resources and vocational resources
More predictable benefit costs since individual rates are guaranteed
Reduced Group LTD costs by lowering Group LTD maximum
Rates that may be more favorable at renewal — since individual policy claims don't count towards group claims experience
Contact your broker today
Learn more about why Guardian is a smart choice for Supplemental Individual Disability Income Insurance. We'll be glad to work with you and your broker to determine the best coverage for your company's needs.