Term life insurance
Protect your loves ones and yourself
What is term life insurance?
Term life insurance is a simple product designed to provide a tax-free payment to the people you choose, known as your beneficiaries, upon your passing. These policies provide coverage for a set period of time, which means it could end while you're still living. And it can be a great starting point for securing protection for your loved ones.
Get a quote
How
does term life insurance work?
Term life insurance can be a good choice for anyone who wants affordable coverage with the option to transition to a permanent policy in the future. Term policies can last anywhere from 5 to 30 years, and you might even be able to get a policy through your employer at a lower group rate.
How
much term life insurance do you need?
The right amount of protection for you depends on where you are in life, who depends on you, and your earning power. In general, the younger you are, the more years of income you need to consider. 
Use our calculator and find out if term life insurance is the right option for you.
Term
life insurance vs. whole life insurance: which is better?
With term life insurance, the insurance protection lasts for a set period — typically 10 to 30 years. It is the more affordable option. Whole life insurance lasts for your entire life, provided you make premium payments. The policy has an extra component called cash value, that can build up a significant, tax-deferred asset, money that can be used during your lifetime.1, 2
What does term life coverage really mean?
Term life insurance is a contract between you and insurer such as Guardian. It lasts for a time period you choose, from 10 to 30 years, during which time you make payments that are the same each month. If you die before the term is over, the insurance company will pay a death benefit, something that is legally binding and regulated by the U.S. government. If the policy expires after the selected term, there is no cash value or payout.
Life insurance policies have four parts:
​​​​​​Insured: the person (or people) covered under the insurance policy. This is different than the insurer, who's the one calculating risks, providing insurance policies, and paying out claims. 
Beneficiaries: someone eligible to receive distributions from a trust, will, or life insurance policy. Beneficiaries are either named specifically in a policy or have met the stipulations that make them eligible for whatever distribution is specified.
Premiums paid each month: Simply put, "premium" means a payment. It's the amount of money you pay your life insurance company in exchange for your coverage. A premium can also contribute to growing the cash value of a permanent type of life insurance. 
Death benefit: The payout itself (called a death benefit) is the amount of money the life insurance company would pay your beneficiaries if you died unexpectedly.
Term life insurance facts
| Feature | Overview |
| --- | --- |
| Average Cost | Affordable at on average $27/month for $500,000 in insurance for a 21-year-old female |
| Term | 10 – 30 years |
| Death Benefit Guarantee | Yes |
| Cash Value | No |
| Premiums | Level, they do not increase |
Term life insurance example
Rebecca, a healthy 35-year old buys a 15-year term policy with $1 million in coverage to provide financial protection for her family until they have saved enough for retirement. She pays a $49 monthly premium to keep the policy in place over the 15-year term (similar to a subscription).
If she were to pass away during the term, her beneficiary (typically a spouse or child) would receive the entirety of her coverage ($1 million in this example), tax-free. If Rebecca passes away after the 15-year term, a death benefit would not be paid; instead her family would rely on the retirement savings accumulated during the time her income was protected by insurance.
Source: Guardian 7th Annual Financial Wellness Studyi
Do you need term life insurance?
Some 45 million working Americans do not own life insurance, including nearly 10 million with dependent children.i  Life insurance can be vital to ensuring financial security in the aftermath of a primary wage earner's premature death.
The primary purpose of life insurance is to provide "income replacement" in the event of a main wage earner's premature death. The reasons to own life insurance include:
Replace income
Pay mortgage
Pay living expenses
Pay for child's college education
Funeral expenses
Tax planning
Enable the surviving spouse to have enough money at retirement
| Who you are | Why you need term life insurance |
| --- | --- |
| Singles | More affordable when young |
| Homeowner | To cover mortgage payments |
| Students loan co-signer | To pay off loans |
| Income earner in family | To replace income |
| Parent | To protect children and a non-working spouse |
| Divorced parent | Child support payments |
| People with debt | Help pay debt obligations |
| Business owners | Income replacement and collateral coverage |
| Funeral expenses | Pay any final expenses |
Term life insurance benefits
Whether you decide to get term insurance, purchase lifetime protection with permanent insurance or combine the two for customized protection – taking the time to understand the unique benefits of each is the first step toward a confident future.
Life insurance is reassurance that you can live life to the fullest knowing your family will be financially secure if you pass away. ​
Buy the length of coverage you want
The term periods we offer are 10, 15, 20 or 30 years. When the term is up, so is your coverage. During that period, your beneficiaries are protected for the amount you purchased.
It's affordable and predictable
Typically, term life premiums are "level," which means they stay the same for the length of the term. 
You'll get added protection
Term life insurance typically offers the option to select additional features that can allow you to customize your coverage to suit your unique preferences.
 
Give back to your charity
Available only on Guardian's term life insurance products, the Charitable Benefit Rider is a no-cost option which will add an extra 1% to your death benefit to be paid to the charity of your choice, over and above the amount paid to your designated beneficiaries.1
Charitable Benefit Rider
Protection while disabled
The Waiver of Premium rider keeps your protection in place by waiving premiums if you, as the insured, are unable to work due to injury or illness and are considered totally disabled. Learn more
How much life insurance do you need?
How to calculate the amount of term life insurance you need?
There are two rules of thumb when determining the amount of term life insurance you may need:
Rule of 10: Calculate 10x your income plus the costs of college education. Note that this doesn't take into account specific expenses but provides a rough estimate that will get families through the next 10 years.
DIME – DIME stands for debt, income, mortgage, and education, four areas that you should consider when calculating your life insurance needs. This can be a detailed estimate based on debt, future earnings, future mortgage payments, and college expenses.
How much do you need?
Convertible term life
A policy owner can convert a convertible term life insurance policy into a permanent life insurance policy during a specific period of time, without requiring an exam or proving the insured is healthy.
Life insurance companies that offer convertible term policies set their own requirements you must meet in order to switch to permanent plans, often setting limits on the amount of time you've had your term policy, your current health, and your age.
Real cost of term life insurance
People tend to overestimate the cost of life insurance. 44% of millennials believe that life insurance is at least five times more expensive than the actual cost.i Most don't realize that the average monthly premium is as affordable as other expenses, such as the cost of a daily latte.
You can afford life insurance. Get an instant quote and find out if term life insurance is the right option for you.
Average term life insurance rates
Term is the most affordable life insurance option. As an example, we listed out an estimated monthly cost for a 30-year-old man and woman who do not use tobacco and earn $50k a year, with a payout of one million dollars.i
| Person insured | Term | Cost per month |
| --- | --- | --- |
| 30-year-old male | 10 year term life | $42 |
|   | 15 year term life | $50 |
|   | 20 year term life | $61 |
|   | 30 year term life | $119 |
| 30-year-old female | 10 year term life | $34 |
|   | 15 year term life | $42 |
|   | 20 year term life | $48 |
|   | 30 year term life | $96 |
How to buy term life insurance
Traditionally, people obtain this coverage through their employer, hence the term "Group Benefits."
For the first time in history, more Americans are covered by employment-based group life insurance than individual life insurance.¹
57% of those with life insurance obtain it exclusively from their workplace.²
The advantage is employees pay lower premiums and, in some cases, receive better coverage than if they purchase insurance on their own.
Employer-provided insurance can be used with any insurance you buy yourself.
Group plans
Whether you're a broker, employer, or individual, Guardian can help you put together the right plan to meet your needs now and in the future.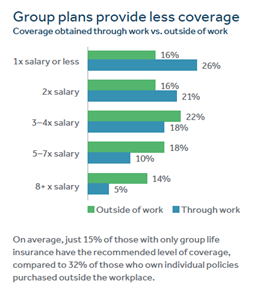 Source: Guardian WBS 7
Get a term life insurance quote
Term life insurance takes into account several factors such as:
Health status (smoke, pre-existing conditions)
Age, sex, height and weight
Occupation such as if you have a high risk occupation
Even if you have a medical condition you should still apply.
Get a quote
Best life insurance companies
Term vs. permanent life insurance
Life insurance can be confusing. Simply, there are several types of life insurance – term and permanent. Term lasts for a specific, pre-set period. Permanent lasts your entire lifetime.
Depending on your needs, you may want the affordability of term life, which replaces your income and is most often used for temporary, short-term needs like your mortgage. It can be good for a growing family. Or, you may prefer the lifelong protection and cash value that most permanent life insurance products offer.
Whole life policies stay with you for life and pay out to the beneficiary or beneficiaries upon your death. Your monthly premium and the death benefit will not change once you sign the paperwork.
Universal life gives you flexibility in the premium payments and the duration of the policy but with that flexibility comes unknowns. Premiums may be lower during periods of high overall interest rates and higher in low interest rate environments to account for the lower gains on the cash value of the policy.
Talk to a financial representative or broker to learn more about what's best for you.
| Policy feature | Term life | Whole life | Universal life |
| --- | --- | --- | --- |
| Level payments | Yes | Yes | Optional |
| Choice of policy Term | Yes | No | No |
| Builds cash value | No | Yes | Yes |
| Flexible death benefit | No | No | Yes |
| Low cost | Yes | No | No |
| Guaranteed cash value growthiii | No | Yes | No |
| Cash value grows with investments | No | No | Yes |
| Convertible to whole life | Yes | NA | NA |
Term life insurance FAQs
What type of life insurance do I need?
Ensuring a secure financial future for your loved ones requires thoughtful planning. Each type of life insurance offers unique features and benefits, so many people have both types to provide optimal protection.
Types of life insurance
How does life insurance work?
Life insurance can help protect your loved ones financially by providing a death benefit (the tax-free payment) to your beneficiaries if you pass away. 
How term life works
At what age should I buy life insurance?
You may even think that life insurance is only for recent parents or mid-aged people. But, young adults are in the very best position when it comes to purchasing a life insurance policy. The cost when you're young is typically lower than it will be later on, so you can lock in a much better deal.
When to buy
You may also be interested in...